Yesterday Joomla 1.0.8 has been released by the Joomla! core development team. It is more than a maintenance release, because it brings a change to the session management in Joomla. People behind a proxy who are surfing with dynamically changing IP addresses can be tracked better and don't raise the visitor counter by one on each page load.

The release addresses 37 security fixes and more than 70 general bug fixes - so upgrading your Joomla version is recommended.
Find a patch for your Joomla installation or the complete package here: forge.joomla.org.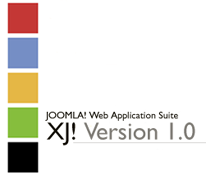 Shortly after this new Joomla! release had been out, the developers over at creativecoders.net have released the final version 1.0 of their great "Joomla! in 5 minutes" server package. XJ! 1.0 [Aralon] is a multi-language web application suite, bringing you an Apache webserver, a MySQL database server and various Joomla 1.0.8 installations (plus Joomla 1.0.7 eCommerce Edition) to play with. Just start and run - you're done! It has never been easier running a local Joomla installation. The package comes with phpMyAdmin and MySQLdumper.
XJ! 1.0 by creativecoders.net - Recommendation!!